What is Seafile?
NiHao Cloud and Seafile Ltd are Technology partners. Nihao Cloud infrastructure is based on Seafile Technology as the framework.
Therefore Seafile Apps are used to connect with Nihao Cloud Servers and the back end.

First, you need to download Seafile app. Click here to download. Make sure you download the Desktop sync client for your specific OS.
Install Seafile App by double clicking on it:
After installation Seafile Client will ask which server address it supposed to connect to:
Type in or copy-paste this server address (unless you are in China) :
https://app.nihaoconsult.com
Then your Username and password.
This is a very important step where you have to type the correct server name or otherwise you will not be able to access your account.
If you have any difficulties at this step, please make sure you typed correctly with https:// and leave no spaces both in front or the end of the link.
If there is any issue you can email our support for help: support@nihaocloud.com

Once logged on your client, you should see exactly same libraries as you have in the web browser- cloud.
Orange cloud icon means that this library is in the cloud only. To sync it with your device you need to click:
Right, Click on the library.

Sync Library.
3. Choose where you want this library to be saved on your device: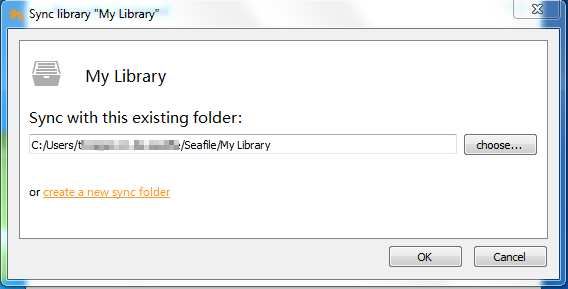 Once it is synced you will see a green icon on the library like on the documents folder in the first picture.
You can also drag and drop folders from your PC and sync it with your cloud.
Syncing Tips :
• Be aware of the sync your library on the PC, any changes you make on the PC or the browser, the client will automatically sync the libraries so they become identical. However if you don't sync the libraries, whatever changes you make on the browser, will not affect the library on the PC and vice versa.

• Do not sync libraries that you don't need every day on your PC. It's unnecessary to use space on your PC. You can access your files either way through the browser or open files on the client by clicking right click on the library and then "OPEN CLOUD FILE BROWSER" option. In this way, you will be able to access files without downloading them.

• Quickly generate Download and Upload links by opening files on Cloud File browser on the client instead of going to the web browser.